I
love food and cooking, who does not love food. However, I am changing my food habits. I decided to start eating smarter and healthier for great reasons. Health is my number one reason. I decided that I wanted to learn vegan and Raw recipes so here I begin.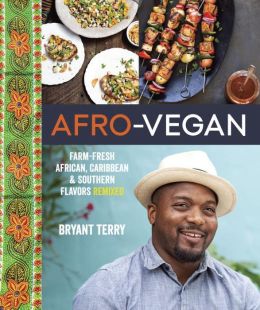 I love this book. I have tried over 20 recipes and enjoyed most of them including family members. If I was not satisfied with the taste either the hubby or guest was so it was a win, win for me
I left myself open to all kinds of 'clean' foods. Those i regularly eat and those i don't like as well as trying new foods.
The recipes I enjoyed were:
Spicy Mustard Greens
Tofu Curry with Mustard Greens
Muscovado-Roasted Plaintains
Twice Baked Sweet potatoes with Winter Salsa
Collards and Cabbage with Lots of Garlic
Glazed Carrot Salad
Smashed Potatoes, Peas and Corn with Chile-Garlic Oil
These are definitely part of my staple foods to cook.
There was not any that i just didnt like to the point of not wanting to try because if i didnt like it my hubby did.
I liked the Sweet Plantain and fresh Corn Cakes also the Skillet Cornbread with Pecan Dukkah
I enjoyed the selection of recipes that is included, which covered cold drinks, preserves and porridge sections. I really liked the conversion chart located in the back also. The menu suggestions were on point and the TIPS were a delight. I completely loved the book. You will Definitely love the book. This books sits on my shelf as a DARN GREAT READ with a 5 star review rating.
Mrs Brenda and the Loveladies by Brenda Spahn and Irene Zutell
This book had some great humor. An enjoyable read.
Miss Brenda mind was SET on doing what God had told her to do. Miss Brenda opened her home to women that had been in prison after learning that most of the women really had no place to go when they are released. She had it all planned. She used a home of her's that had not sold and had enough bedrooms to take in a few women. She had done volunteer work at the prison and was familiar with the day to day operations of the prison.
Her family was not sure about the idea but Miss Brends forged ahead.
I love the the first trip to Walmart. Hilarious !!! The book helped me to understand how hard old habits can become even when something is better standing before you. something as simple as soap and under clothes.
There is nothing about the story i did not like or agree with. Its how it was and what happen is what happened. I loved it. I liked most was the update on the first set of ladies. oh, I enjoyed that so much as was as happy as eating my favorite flavor of ice cream when it was included.
My heart sinked when the home had to close but God show up to show OUT!!! This stenghten my faith that when you are doing what God lead you to do, can't nobody tell you NO or it can't be done, You got to exercise FAITH.
This is a great book. Good stories in each chapter. oh, I was also happy to know that Miss Brenda former assistance also decided to make a positive effect in he life
A must READ!!!! sits on my shelf with a 5/5 review rating as a DARN GREAT READ!!!
____________________________________________________________________________________
The novel setting is in Kansas City in the late 1800. The protagonist, Christina Williams operates a farm for the poor. The place has a terrible fire and it destroys the farm. Christina gets help from the neighbors. A young blind boy is the only one that Christina could not place until she asked the town's loner. As Christina works to find a way to rebuild the home someone from her past is working against her. While she struggles with mounting trials and tribulations, an appreciation and attraction begins between her and the loner.
The narrations is done from the characters viewpoints. The characters was a grand slam. The story had quite a few twist that were transitioned well into the story line. The author provided the readers with an uplifting tale of hardship, endurance, spiritual renewal as well as a great plot. This is the first novel I've read by author, Kim V. Sawyer and she has definitely made my list of authors to read. My book cover review is 2 /5. This novel sits on my shelf as a Darn Great Read with a review rating of 5 out of 5.