The story setting is Hollywood Royal 20, A historical novel full of mystery, deceit and lies. The story alternate from the 1920's to 20 years earlier.
The Dufane family is something else. That mother, Marguerite is worse than mother dearest actions. My heart was heavy for Dana. I mean really, a child in prison til 30 years of age.
This story had my emotions stirred from one end to the other. The central conflict of the storyline was intriguing and definitely holds your attention.
The book cover definitely is a match for the story and receives a 5/5 rating, the title relation to the story line is a 4/5 rating and this novel sits on my reading shelf as a darn great read with a 5/5 review rating.
The novel is a 3 part story but it stood well as a solo read. Im definitely going back to read the others.
3/14

This Christian story book about heaven is a great read to children. Children will gain an understanding about Heaven, how to get to heaven and what we are to do til its time for heaven. Each page comes with a scripture located at the top of the page and a colorful full page illustration. I liked the font styles. Appealing to children without being hard to recognize. The How Can We Live Like Jesus section asks a question and provides an answer at the bottom of each illustrated page. I like how the book felt somewhat puffy as if you can feel the clouds. Adding children to the front cover was a great plus also.
This book will make for good discussion at home, church school or church class. Children will love it.
A complementary copy of First Step Heaven was provided to me by Tynsdale for a review.
1/27/2014
Book Summary:
Be Still, My Soul
is a collection of 175 of the most popular hymns and the stories behind them. Many of these hymns were written out of incredible life experiences—from the heart cry of a repentant slave trader to the renewed hope of a survivor of attempted suicide. In this devotional you'll discover the stories behind the songs we sing. You'll experience the passion and joy contained in these hymns' lyrics and melodies. In addition to the hymn stories, Be Still, My Soul includes the musical score, lyrics, and in-depth biographies of 12 of the most-prolific hymn writers, singers, and composers.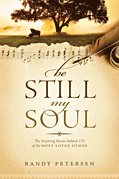 My REVIEW
: A book that tells the story/history of some of the most memorable hymns is such a treasure. As I opened the book I noticed the ragged edges and the look of ancient pages. I thought, 'great touch'. The author provides a content listing the songs and the songwriters and many go back to the early 1800's.
As I was reading the content many of the songs stirred in my head and i found my self humming a few verses, then with excitement I begin flipping the pages to favorite hymns and reading the history of the song and its songwriter, but the best part was the RECALL I got from the hymns I had forgotten. (My Hope is Built on Nothing Less and Near the Cross)
My
most
enjoyed reading time was singing and reading to my 100 year old grandmother. She would sing the songs I did not know such as This is My Father's House. Granny also knew some of the history behind a few of the songs.
Some of our favorites are: Sweet Hour of Prayer, Onward Christian Soldiers, What a Friend We Have in Jesus, Blessed Assurance, Great Is Thy Faithfulness. This book will have you revisiting the times spent singing hymns as part of the worship service of your church. Everyone will find at least three hymns they know among the collection of 175 listed in this book. Guaranteed.
Everything about the book I have enjoyed, that includes the book cover and its simply ancient paged decor, both excellent choices, Kudos to the person/team.
This book sits on my 'deep in my soul' book shelf with a 5/5 review rating.
Definitely will make a wonderful gift for someone you know that love music or singing hymns.
This book was given to me courtesy of Tyndale Publishing for review purposes
.
REVIEWS OF 2013

This children devotional has 13 themes which are: Salvation, Learning About Jesus, Discipleship, The Bible, Faith, Forgiveness, Giving, Witnessing, Worship, Gong to Church, Serving Others, and Overcoming Sin. Each devotional contains a Scripture verse, a devotional based on the days verse, an Odyssey character telling a story, a daily challenge and an additional Scripture to memorize. What a wonderful book for children. It is a wonderful tool to include when teaching any of the themes included in the book. I enjoyed the book as much as the children. I even used it for my Sabbath school class and got great reviews. The lessons are very aged appropriate and easy for children to understand as I witnessed a class of twenty for two months enjoy this book. I was able to create so many ideas that i used with each theme. My kids truly enjoyed this book. A great hit. We had to purchase about three for the church library. You will not go wrong when you choose to select this book for your children.
Boone Drake the protagonist is a cop in Chicago. During a drug sting he is shot and it appears that the operation may have had a leak. Boone is faced with betrayal and treachery in friendships, relationships and even among the "brotherhood" of precinct 11. Someone thinks his cop girlfriend may be the 'inside' leak.
This novel started slow for me. Then a few moderate reading moments. It is a well written novel, somewhat a good twist. I didnt like that I figured who the culprit was way before the end of the novel.
This novel lacked character development in the protagonist, Boone. I was looking for a more direct spiritual link in the novel and it seems like it was placed in last as a last minute thought. The book is classified as a Christian fiction. I did feel like part of the theme was spiritual discipline is needed for christians to sustain. On my reading book shelf as
A Good Read