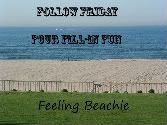 Feeling Beachie
host this meme on Fridays. Join in for some good ole fun. You fill in the blanks.
1.
I love sitting in my message chair sipping wine or a root beer float when I need a pick me up
2.
No matter how hard I try, I just

can't

seem to crochet
3.
Cuddling under my leopard blanket with hot chocolate
makes me feel all warm and fuzzy
4.
I can't resist a sale on
BOOKS!!